Old Town Warrenton Fall Festival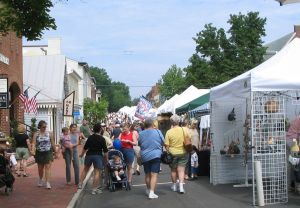 VENDOR APPLICATIONS ARE NOW BEING ACCEPTED
Main Street in Historic Old Town Warrenton transforms with arts, music, crafters, strolling entertainment and festival food during the 44th Annual Old Town Warrenton Fall Festival, on Saturday, September 23rd from 9:00 AM to 4:00 PM. Named one of the Top 20 Events in the Southeastern United States, this event is a perfect family day, offering something for everyone.
On Fall Festival Day, this rural county seat opens its streets to a wide variety of artisans and crafters exhibiting and selling handmade jewelry, fine arts, candles, tee shirts, wood furniture and stained glass goods from tents set up on Main Street.  In addition, Festival visitors will find a variety of vendors showcasing their services and community causes as well as numerous food offerings from shaved iced to BBQ providing for a full day of fun, shopping, food and entertainment for all!
Rain or shine, the event draws from 25,000-30,000 people of all shapes and sizes. Admission is FREE. Bring the whole family and join us for the 44th Annual Old Town Warrenton Fall Festival on September 23rd from 9AM to 4PM!
For more information, bookmark this page as updates will be provided throughout the year leading up to the event.
Vendor & Booth Information
This year we will be introducing a more efficient way for vendors to apply and select booths online.
We have a total of 130 10' x10' booth spaces available and 5 space for Food Trucks this year. In order to meet the expectations of our festival attendees, we will be limiting the number of vendors for each of the categories as noted below. Determination of categories for vendors will be at the sole discretion of the event organizer. We regret to inform that we will no longer be offering booth space to food and beverage vendors that produce product on site. Only Food Trucks with the proper licenses and permits will be allowed. 
Vendors whose applications are approved will be provided with a link that will allow them to view and select the booth of their choice. Booth locations in relation to the street map will be clearly identified and pricing will be noted for each. Vendors will also have the opportunity to see the names of the vendor booths to assist in their own decision making processes. Food Truck locations will be determined by event staff to ensure compliance with town ordinances and safety protocols.
Vendors who have participated in the past will be given priority in booth selection.
---
APPLICATION PROCESS
STEP 1
Clicking the "Marketplace" tab will give you 4 application options. Select "Apply" for the one that is best suited to your products/services or cause. **Scroll down to see full descriptions of each category**
Complete the application and submit.

the credit card information you enter will only be charged when your application is approved
STEP 2
We will review the application and notify the applicant that their submission is either approved or rejected.

We may also waitlist an application if it is submitted after all available spaces have been reserved and then approve it should space become available.
STEP 3
Once the application is approved, the applicant will be notified via email and provided a link to a map specific to the category showing all available booths for them to choose from. (EXCLUDING FOOD TRUCKS AS EVENT STAFF WILL ASSIGN THEIR LOCATIONS)

When selecting booths, applicants will also have the ability to see the booth(s) already reserved by business name as entered.
We realize that times are still hard for a lot of small businesses and non profits, therefore we have not raised our prices from last year. There will however be a small fee attached to the booth price to simply cover costs associated to this new online system.

DONE! you will receive your vendor packet approximately 4 weeks before the event.
---
This new process will not only provide you with a more intuitive and efficient means of applying for the festival but more so it will provide us with more time and resources to be directed at promoting the event and driving awareness of the vendors and their products/services and causes.
---
Artisans / Merchants / Vendors (100 booths) / $175 per booth - Artisans are those displaying and selling items which are 100% handcrafted by the seller in relatively small quantities. This includes paintings, pottery, glass, woodcarving, weavings, and so on.  Each item is typically unique or one-of-a-kind. Merchants are those displaying and selling both handcrafted and non-handcrafted items. This includes new items crafted from manufactured products and those that are upcycled from pre-existing manufactured materials. Vendors are those displaying and selling items made by others, purchased wholesale, or produced in a facility with several employees. This excludes food and beverage.
Civic Organizations (20 booths) / $175 per booth - Civic organizations are community-based companies, clubs, committees, associations, corporations, or any other organization or group of persons acting in concert which is composed of persons who are members thereof on a voluntary basis and which is primarily established to further educational, charitable, religious, cultural, or local economic development purposes.
Professional Services (10 booths) / $175 per booth - Professional services are nonphysical products or services that individuals or companies provide to customers to help them manage or improve a specific area of their businesses. For example, an acting coach offering lessons to actors could be a professional service. An individual offering professional services may have expertise in a niche area, like digital marketing, and provide services to a business to improve their digital marketing efforts. This type of professional service may be freelance, contract or private practice work.
Food Trucks (5 spaces) / $250 per space - A food truck is a large wheeled vehicle from which food is sold that typically contains cooking facilities where the food is prepared.
Food Vendors - We regret to inform that we will no longer be offering booth space to food and beverage vendors that produce product on site. Only Food Trucks with the proper licenses and permits will be allowed.