Virginia Historic Garden Week is the largest state tour in the country and the money raised supports many wonderful restoration projects and environmental projects in our community so please show your support by sharing the news.
Tourists visiting the north region have a multitude of destinations to choose from including Old Town Alexandria, Front Royal, Middleburg, Little Oak Spring, Warrenton, and Clarke County.
In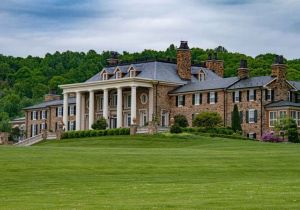 Old Town Alexandria, the small town that overlooks the Potomac River, the tour features not only historic private townhomes and their courtyard gardens that date to the 1700's and 1800's — the tickets also allow tourists the opportunity to visit George Washington's Mount Vernon Estate and Green Spring Gardens, a national historic park that boasts a museum and outdoor classroom. If you are an admirer of the beautiful hydrangeas on this tour, find garden advice on growing hydrangeas in Virginia.
Warrenton, Image © Penny Dart
Meanwhile, tourists looking for a more rural tour may want to head to the rolling hills of Clarke County where
manor homes and their courtyards are at the heart of the tour. From the historic vast mansion, The Tuleyries, to the antebellum Carter Hall and Apple Hill (built in 1937), the tour combines a wide range of history related to the homes, their original owners, and their gardens.
This year marks the 90th Anniversary of Historic Garden Week. Click here to find out more
Exclusive Rooms and a Photo Tour of Upper Bundoran, a beautiful home on the Albemarle-Charlottesville tour of Virginia Historic Garden Week, can be found by clicking here.